All reviews, statistics, guides and estimates of any kind on AppsThatDeliver are compiled using a strict editorial review process by our editorial staff. Neither our writers nor our editing staff receives personal compensation of any kind to post on appsthatdeliver.com. This article is reader-supported and may receive a small commission when you purchase products through links on our site. Click here for a full list of our partners and in-depth information on how we get paid.
Painting businesses offer a broad range of services, including wallpaper, painting, and floor finishing services on both residential and commercial properties. Starting up a painting business can be easy and with little initial investment. Starting small, you can scale up your workforce and services over time, In this guide, we talk about low-cost approaches to get your painting business up and running on a budget. We cover how to get your painting business started in seven easy steps.
---
Choose Your Type of Painting Business
---
The most important step you need to take is to decide if you'd like to start a residential or commercial painting business. Your choice here will influence everything else you do, from financing the necessary equipment to marketing your business.
Most painting businesses don't provide services to both residential and commercial clients. The specialization is because each provides different services and requires different equipment. You also need to determine if you're starting your business from scratch or purchasing a painting-based franchise
Residential vs Commercial Painting Business
As a basic definition, a residential painting service concentrates on homes, and commercial concentrates on large-scale projects such as multi-family homes, offices, retail stores, restaurants, or churches. But, it gets more complex.
Typically, the residential painting business is cheaper to start; however, commercial painting can be highly profitable because of the add-on services such as power washing, stenciling, concrete ceiling repair, drywall painting, and decoration or logo painting.
| Residential painting | Commercial painting |
| --- | --- |
| Moderately skilled | Highly skilled |
| Day painting | Day/Night painting |
| Slower painting | Faster painting |
| More client communication | Less client communication |
| Less competition | More competition |
You also want to consider that residential painting is often done during the day, and commercial painting is done during the day or night. Commercial painters need to be incredibly time-flexible because most commercial painters know that interference to normal activities may lead to losses.
From a business viewpoint, you'll see less competition in the residential space because there are more clients available. Overall, your preference between residential and commercial depends on your budget for tools and lifestyle.

Should You Buy a Painting Franchise?
Painting franchises are popular—you can pick from over 15 brands. One aspect that makes painting franchises interesting is they're usually low-cost to start. Many also give a choice to start from home or part-time. America's Color Consultants franchise costs as low as $10,000.
Now, it's essential to identify that not all painting franchises are low-cost. Some require up to a $180,000 investment. These types of franchises usually require vehicles, a location, and advanced tools.
Many new business owners prefer to buy into a franchise because no prior experience is required, the training provided by the franchisor ensures the franchisee establishes the skills required to run the franchise.
| Franchise | Franchise Fee | Initial Investment |
| --- | --- | --- |
| CertaPro Painters |  $57,500 | $133,250 – $169,500 |
| Five Star Painting | $45,000 | $74,700 – $184,250 |
| Fresh Coat | $44,900 | $53,945 – $76,845 |
| Lime Painting | $50,000 |  $90,000 – $129,700 |
| America's Color Consultants | $10,000 | $13,135 to $43,100 |
---
Write a Quick Business Plan
---
The next step is to create a one-page business plan. You should know your core business activities, goals, and the necessary plans to achieve those goals. You should calculate the startup costs and project how much revenue your painting business will generate and spend over the next two years.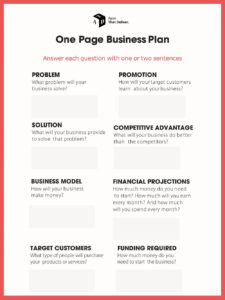 Create a One-Page Business Plan
You should be able to complete your one-page business plan in less than 20 minutes. It's super-simple: Print our free PDF template and write down one to two sentences to the questions in the free template below:
Download template: PDF
Set up a Budget
Once your business plan is ready it's time for you to evaluate the financials of your painting business. You need to calculate three important figures: startup costs (how much it costs to start), expected monthly expenses, and expected monthly income.
The following are typical expenses for a low-cost painting business:
Licenses: $100 to $500 to register your business as an LLC (Limited Liability Company).
Insurance:  $500 to $3,500 a year, this varies according to the number of employees. Plan to pay a few hundred dollars a month.
Essential tools and equipment: $300 to $600 depending on the type of equipment. A high-quality paint sprayer can cost $200 to $500, $30 for a set of brushes, a workbench for $50, and other small tools.
Marketing: $100 to $200 for print and online marketing.
Labor: About $12 to $28 per employee, per hour.
Once you have your expenses calculated, you need to decide your rates and how much revenue you will bring every month.
Set Your Painting Rates
Your exact painting rates depend on a lot of factors such as location, demand, competition, and various other factors. There is a good chance for you to earn extra income with upgrades such as power washing, stenciling, concrete ceiling repair, decoration, or logo painting.
Consider these options when determining your rates:
Hourly Rate: $35 to $84 per hour. You can calculate the hourly rate by simply calling your competition and inquiring about how much service would be
Flat Rate: Residential projects cost anywhere from  $150 to $4,500 depending on the size of the project. Estimate the amount of time each takes and come up with a fixed rate.
Square Foot Rate: You can charge anywhere from $2 to $4 per square foot for new construction, you can always suggest the add-ons for old construction.
---
File Legal Paperwork
---
Once you have the money to launch your painting business, the next step is to get your legal documents in order. You'll need to get an employer identification number and insurance.
Get an Employment Identification Number
The Employment Identification Number (EIN) is provided by the federal government to identify small businesses. It is commonly used by employers to report taxes. Obtaining an EIN is free and the process takes less than 20 minutes.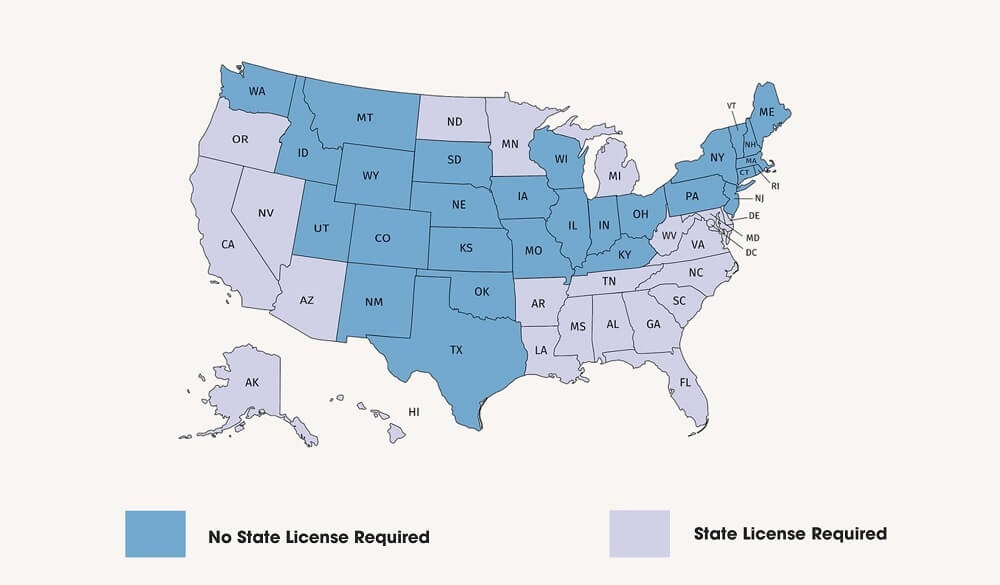 Types of Insurance
Depending on the state where you operate, there may be up to three varieties of insurance products needed, such as:
Surety Bonds: Some states need this for businesses that pass a certain dollar value.
General Liability insurance: This policy guards your painting business against claims of third-party bodily injury and property damage.
Workers Compensation: This is required in most states if you have employees working for you.
Painting Services Agreement
A Painting Services Agreement is a simple agreement between the client and the painting contractor. The contractor who will perform the painting services must list all the specific services, the duration required to complete the project, the location where the painting has to be done, commencement and end dates, and the total cost of the project.
It is important to set out this agreement in writing and must be signed by the client and the contractor (the owner and not the employee). Such an agreement will prove beneficial in case of disputes or confusion between the parties about the extent of the painting services to be rendered.
You can download a free template from here→
---
Essential Tools and Equipment
---
You're nearly ready to accept your first client! But first, you need to purchase the required equipment to get the job done. We've gathered a list of low-cost tools and equipment to get your painting business started on a budget.
Now that you have completed the paperwork it's time for you to buy the essential tools and equipment to get the job done. We've gathered a list of low-cost tools and equipment to get your painting business started on a budget.
| Protective Equipment | Preparing the Room | Painting the Room | Optional Equipment |
| --- | --- | --- | --- |
| Decorators overalls | Dust sheet | Interior paint & primer  | Ready-mixed filler |
| Painter's goggles | Canvas sheet | Stepladder | filling knife |
| Gloves | Painter's tape | Paint kettle | Flat scraper tool |
| Dust mask | Decorating cloths | Paint roller set | Fine sandpaper |
| Shoe Covers | Drop cloth | Radiator brush | Wooden platform |
| Hard hat | – | Plastic bucket and sponge | – |
---
Market Your Painting Business
---
To acquire customers, you must market your business. Small businesses usually have small marketing funds to work with, which can make advertising your business a hurdle. The great news is, there are loads of ways for you to promote your business to your clients without spending any (or much) money, these ideas for low-cost or even free marketing can help you get the best return on investment.
Traditional Marketing
There are numerous options for physical (traditional) marketing, such as business cards, flyers, billboards, and postcards. But this requires a healthy budget and since we're on a super tight marketing budget we'll only discuss the low-cost strategies to market your painting business.
After completing the project for your client, leave your business card with a personal handwritten note. In the note, thank your client for their business and request them to pass your business card to anyone interested. You can also leave a small gift such as a small pack of chocolate or something the client would find useful. Make sure you make an emotional connection with your client.
Download a free business card template from here→
Online Marketing
Follow these free and easy online marketing strategies for getting your painting company noticed online.:
Google My Business (GMB): Google My Business is a simple and free listing for businesses to maintain their online presence across Google, including Search and Maps so you can get a lot of local customers if you sign up for GMB.
Google My Business website: Once your GMB listing is live, you can create a free website on the platform itself, the website is mobile optimized as well. Consider this as your secondary website. You still need to create a website for your business.
Social media: Create a profile on all possible social media platforms and post regular content to boost your presence. Keep the audience engaged with your

social media posts

. Share some tips or some hacks regarding painting. Show your project images (Eg: Before-After Images) or post some short videos of your completed projects.
Save time and grow your painting business using these easily customizable and free social media templates templates
Local business directories: There are many local directories available online, just search "free listings" on Google and you should have a bunch of free sites which allow free listing. Yelp, FourSquare, and Yellow pages are the most popular ones.

---
Bottom Line
---
We've discussed all the necessary steps and various low-cost approaches to get your painting business up and running. The free resources we've provided can help you to save another hundred bucks. 
What steps will you take today to ensure that your painting business becomes a reality?